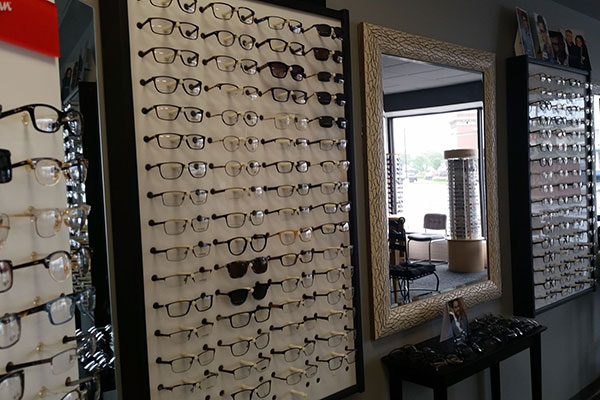 Customer Reviews
Please take a moment to share your own experience with us at one of these great review sites. We appreciate your time and look forward to hearing about your personal experience with us.
"AWESOME customer service!!!!! Love Dr. Miller, and the owner Terri and optician Kathy...GREAT team!!!! I was already a patient of Dr. Aimee Miller, but then when Sears closed, I followed her to Gold Circle, and I am very thrilled that I did. Terri helped me immeasurably get the best deal for my contacts, and she was friendly and courteous every step of the way. Kathy was friendly and helpful as well, and I chatted with them as if I had known them for years, like old friends. THANK YOU!!!!!!! A+++++++"
Stephanie C
Source: Facebook
"I highly recommend Gold Circle optician for your vision care. Terry is highly professional, personable and knowledgeable regarding vision care. Their ability to assist a person with the "right" style frame is amazing, providing the highest level of satisfaction. Fitting and the adjustments are second to none. I had a very unique vision challenge and had traveled the pathway of several vision providers that did not have a solution. Terry offered a number of recommendations; which led to the correct provider. With a correct diagnosis, my vision challenges are now resolved with glasses that have improved my quality of life."
Tony L
Source: Google
"When I was a kid I was not a candidate for contacts. Was fitted and fainted, then got sick. 30 years later I was in great need for contacts so I could continue to play golf and softball. I literally was sitting in Gold Circle for over an hour scared to death to try them again. Terri never once rushed me or laughed (even tho I'm sure she wanted to). I finally took her up on her offer to let me allow her to put them in my eyes. Two years later I am still wearing contacts and I can get them in and out in less than a minute! Terri is BEYOND patient and extremely helpful. Picking out glasses...should be another review! Hours later and two trips to decide, but Terri again, remained patient and respectful! Now my husband and children go to see Terri! We won't trust anyone else! You only get one set of eyes."
Kari W
Source: Yelp
"Love this place! I finally found an optical business that I can trust. From the moment I walked in the door I was well taken care of. The doctor, Terri and her staff know what they are doing! They helped me to actually like wearing glasses and made sure I was very comfortable with them and also my contacts. I was treated so well by everyone. You won't be sorry if you make this your go-to place for good quality, fashionable glasses and contacts!"
J. Rey
Source: Google
"I stopped at Gold Circle because I had a hard time finding what I wanted at the big shops near me. The first thing I found here was caring, thoughtful service. My old glasses were adjusted perfectly and she gave me advice about quality aspects I should look for in the wireless frame I wanted. Since then I have been back for two more pairs and am extremely happy. I got a nasty scratch on one pair and the lens was replaced after a full year....at no charge. I didn't know they were on warrantee and would have gladly paid for it. 25 years of buying frames and lenses and this is the very best, for careful fitting and continued care."
Kathy S.
Source: Yelp
"Gold Circle Optical is awesome! They have top quality equipment for eye exams and a wide variety of unique eyeglasses. The owner wants the best for her customers and works to ensure that they are all happy at the end of the day. If you are looking for quality glasses and wonderful service, Gold Circle Optical is the place for you!"
Claire R.
Source: Google
"I was looking for a new place to get my eyes checked and I found the best place. Terri was helpful and patience. I would recommend them to everyone. My husband and I liked the doctor she was very good."
Connie T
Source: Facebook
"Friendly owner. Really takes the time to get to know her patrons & goes above & to make sure that your needs are met. Highly recommend!"
Alana A.
Source: Yelp
"Great customer service! Always takes the extra step to help and make you happy! Love coming here for all my glasses and contacts."
Kathryn A.
Source: Google
"I have been to MANY optical and vision businesses over the last 20 years and this place was my first 100% positive experience. Terry was awesome! Professional, NOT pushy, did not try to "oversell", but also advised with all options. I did not feel rushed and was treated as a valued customer. The doctor was wonderful. He was knowledgeable, professional and also gave me options and explained every single thing step by step. Thank you!"
Nancy S.
Source: Yelp